Waterjet abrasive technology is the ultra-high-speed propelling of water for cutting through a material. Waterjet cutting in Dubai can either be performed with pure water or with abrasives in water. Both the techniques are preferable in industries due to the extraordinary results.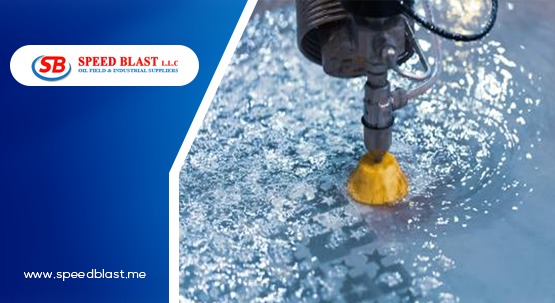 What is a Waterjet Cutter?
A Waterjet Cutter is a machine that uses high-pressure water that passes through a narrow line to cut metals and other materials of different densities. It consists of an abrasive added to the nozzle to enable the waterjet cutter to cut the materials of any thickness. Waterjet Cutting technology has gained more prominence in countries like Dubai, with a large number of industries.
Let us see how the waterjets make a powerful cutting stream, as shown below.
Generating Pressure
In the waterjet cutting technology, the high-pressure pumps play a crucial role in supplying water to the waterjet nozzle with a pressure of up to 94,000 psi (6,480 bar).
Converts Pressure into Velocity
The water coming out from the nozzle is so powerful that it comes with a high velocity, enabling it to cut the high-density and soft materials by creating a stream as small as human hair. Moreover, the aerodynamic drag acts as a boundary for the stream that regulates the water flow.
Introduce Garnet
A Garnet is also introduced to enhance the cutting power by 1000 times by pulling it into the supersonic waterjet stream. The core sends primary energy when it hits the hard surface during the cutting process. The length depends on the nozzle and flow conditions.
However, one should remember to use high-quality waterjet nozzles during the cutting process. Eventually, the droplets coming out from the nozzle with high pressure will cut the material.
Applications of Waterjet Cutting
Compared to the previous years, the companies are showing interest in using abrasive waterjet cutting machines to save the time and complexity of cutting various materials quickly. Thus the applications of Waterjet Cutting become more vivid. Let us look at the applications of Waterjet Cutting Technology as follows.
Cutting of Stone and Tiles using Waterjet
Water jet abrasives are used to cut stone, ceramics, marbles, and other similar materials. In addition, it is widely used for the insertion of inlays and logos for stone and tiles, which eventually increases cost and performance. The abrasive waterjet cutting technology overcomes the bottlenecks in traditional stone and tile cutting methodologies.
Cutting of Glass Materials with Waterjet
Abrasive waterjet technology is also used to cut glass materials in the internal cut-outs in the glass. Using this technology, one can effectively cut the glasses of high thickness with superior edge quality. The applications of this technology in glass technology include.
Low contamination
Painting and coating companies in Dubai say that even if the surface is adequately prepared it may not be suitable for the paint to stick. Moisture content on the surface disallows the paint to adhere, making all the efforts futile. The moisture causes flaking and blistering of paint, and within a couple of weeks, you can witness it falling off the surface. Hence, drying the area is also an essential step in surface preparation.
Kitchen & Bathroom Splashbacks
Mirrors
Table Top Inlays
Power Point Cuts
Window Panels
Frameless Shower Screens
Cutting of Metal using Waterjet Technology
Waterjet is used for the ideal cutting of various metals with exceptional performance in edge cutting. It is ideal for cutting standard and exotic materials such as,
Aluminium
Titanium
Brass
Copper
Alloys
Mild and Stainless Steel
Waterjet Cutting in Food Industry
Waterjet cutting technology is widely used in food processing industries to cut food materials like meat and vegetables. This technology is highly beneficial and avoids the cross-contamination and wastage of food materials.
Waterjet Cutting in Aerospace Industry
Abrasive waterjet cutting is used in the aerospace industry to cut materials such as Brass, titanium, aluminium, and other materials. Its application is more vivid in wing sections, turbine blades, brake components, landing gear, etc.
Conclusion
So, increase your productivity with less machining time, high-quality cuts and less waste material. Speedblast, your trusted partner, provides premium quality waterjet cutting in Dubai.
Connect with us and take advantage of powerful water jets for your cutting needs.