What is Abrasive Blasting?
Abrasive blasting is the operation of propelling a high-pressure stream of abrasive material called blast medium against a surface. It is used to clean or prepare surfaces prior to use. The pressure used determines how fast the process will be and the quality of the results.
What is Abrasive Blasting used for?
Abrasive blasting or Sand Blasting is used to remove and clean excess unwanted materials from a surface. It leaves the surface intact while removing the unwanted materials.
For the full range of services related to Abrasive Blasting UAE, please give us a call today.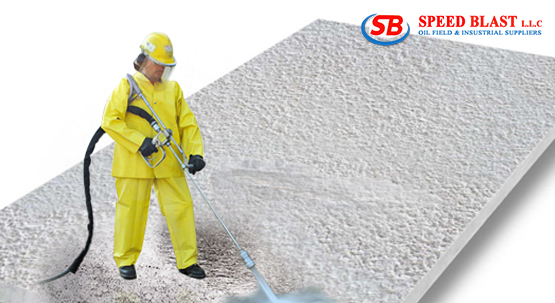 What are the different components of Abrasive Blasting?
A sandblasting system comprises four basic components:
Air source- bottle gas or an air compressor
Sandblasting cabinet-holds the object being blasted
Dust collectors- removes dust from the cabinet
Blasting media-the abrasive used
Why is sandblasting used in industries?
To remove paint, rust, and residue from materials quickly and efficiently. In industries, machines and metals are often prone to rust and corrosion.

To change the condition of a metal's surface such as removing scratches and casting marks.

To smoothen out or polish a coarse surface.

To prepare surfaces that need repainting.
For professional Garnet Blasting in the UAE, give us a call at Speed Blast today. We will be happy to answer your queries and concerns.
Which industries commonly use abrasive blasting?
Shipbuilding
Automotive
Metal finishing
Foundry
Surface coating
Other industries that encompass surface preparation and painting
To know about Shot blaster in Dubai, please call us today. Our highly qualified and trained professionals look forward to meeting your diverse and specific industrial needs.
Speed Blast Abrasive Blasting UAE is a reputed supplier of Abrasives, Blasting, Painting, Safety Equipment and Supplies to the surface preparation industry. We offer superior quality surface preparation, painting, abrasive blasting and industrial products.
To know about or avail services related to Garnet blasting in the UAE, please call us today.
What are the benefits of Sandblasting?
Enable convenient cleaning of the surface as well as the project space after the process. After the sandblasting, cleaning up is easy because the equipment is laid down to protect the surrounding areas from the sand.

An effective way to remove contaminants from hard surfaces such as metal.

Quick cleaning option compared to traditional methods.

A good method for preparing surfaces for various coatings and sealants. Sandblasting removes all dirt and contaminants from the surface so that the coatings adhere better. In addition, the film left behind after the sandblasting prevents the rust that forms (from oxidation) after the metal are exposed to air.

Eco-friendly and non-toxic-Materials used in sandblasting have been proven to be safe if inhaled, unlike other coatings and cleaning products which are usually harmful.

For details regarding services related to Shot blaster in Dubai, please call Speed Blast. Our team of technicians is fully equipped to serve your wide range of industrial needs.
According to estimates, the global industrial sandblasting machine market is expected to grow in the years to come owing mainly to three factors stated below:
Growth in the automotive industry.
Growing popularity of robotic sandblasting machines.
Steady growth in construction activities.
If you would like to avail of our value- added services related to sand blasting, please give us a call at Speed Blast, Dubai today. We provide time-tested options for industrial supplies and services. Partner with Speed Blast, the experts in Abrasive Blasting UAE today.