What is Sandblasting?
Sand blasting or Abrasive blasting is a process of surface treatment used in various industries for diverse requirements. An abrasive media is propelled under high pressure to the surface to be treated through a blasting nozzle with the help of compressed air. As a result, the desired change in the surface texture is obtained and contaminants are removed. The abrasive used in blasting depends on the type of surface treatment needed. Different blast media are chosen on the basis of their varying hardness, shape, density, and range of particle sizes depending on the specific requirement.
For high-grade Inspection Equipment in Dubai, please call us at Speed Blast today.
What is Sandblasting used for?
Abrasive blasting is used to:
Remove rust, scale, sand, mold or paint from fabricated components.
Prepare surfaces for painting, bonding, and other coating operations.
Treat final products to give them the desired luster and surface texture.
Roughen the component surfaces of industrial gas turbine engines and prepare them for thermal spray coating.
Call Speed Blast, Dubai, today for sophisticated high-performing Digital Pressure Gauge Equipment in UAE.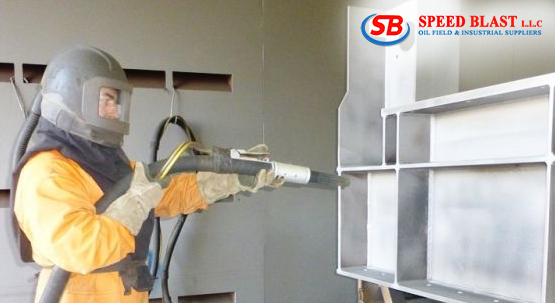 What type of equipment is used for Sandblasting?
The equipment used for sand blasting depends on the particular industrial application and surface treatment as well as the end use. They include:
Hand cabinets
Dedicated automatic high production models
Robotic systems with closed-loop process controls.
Speed Blast is one of the most reputed Blasting Equipment and Coating Companies in Dubai. Call us today for a quote.
What are some safety tools used in Sandblasting?
Protective hood-headgear with large viewing windows that help you see clearly. The hood is made of extremely durable fiber that protects your face and head from blowback.

Blast cabinet-a closed-loop system that allows recycling of the abrasive which is not contaminated in any way during the blasting. The abrasive is collected back into the cabinet after blasting.
For superior quality Inspection Equipment in Dubai, call us today. We look forward to answering your queries and addressing your concerns.
What are the special precautions to be taken during the process of Sandblasting?
Sandblasting equipment needs to be regularly inspected. As a user, you must always be alert to the hazards of the operations and protect yourself and co-workers against harmful exposures:
Airborne dust and metal dust is encountered at all points where abrasives are transferred. So all points of transfer must be properly exhausted and workers who handle abrasives manually should wear particulate filter respirators.
Metals such as lead, cadmium, and manganese are toxic when inhaled.
Many paints have a lead base. Special handling and medical monitoring are essential when the lead is present.

For the leading suppliers of Blasting Equipment and Coating Companies in Dubai, please call us now. We are fully equipped to cater to your diverse industrial requirements.

Air-supplied respirators must be used when working inside blast cleaning rooms, using portable units in areas without enclosure and whenever the operator is not physically separated from the abrasive material. The intake hose should be placed in an area that provides clean air. An attendant should continuously monitor the breathing air and assure the blaster's safety.

Call Speed Blast, Dubai, today for detailed information regarding Inspection Equipment in Dubai.

Sound protection is a must for the operator and nearby workers.
Use heavy canvas or leather gloves, aprons, and safety shoes.
For high-performance superior quality Digital Pressure Gauge Equipment in UAE, Call Speed Blast, Dubai now. We look forward to being your trusted partner with customized solutions and services to suit all your industrial needs.